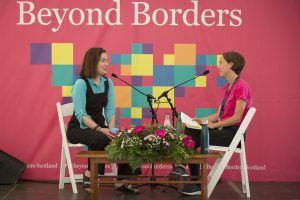 Ellen Davis-Walker interviewed New York Times writer Amanda Taub as part of Beyond Borders Question Time at the Beyond Borders International Festival on Saturday August 24 2019 – read the interview below:
Amanda Taub has rapidly risen to become one of the most prolific voices at The New York Times, yet her path has not been typical. With a background in Human Rights Law, Taub, by her own admission got 'in' to journalism in quite an atypical way.
"It was a very non-traditional path in a couple of different ways" she told me, "I wrote essays for my courses and emails and that was about it for a long time. Then I became a lawyer and when I first graduated from law school there were no human rights jobs. A friend of mine was in the same situation and we started a blog called 'Wronging Rights' which was a humorous take on the world of human rights law and foreign policy, and it got a little bit of a following, which lead to freelance."
Taub's big break came when an editor who she had written for at The Atlantic went to a new start-up called Vox and needed people who could write from an international policy perspective (she jokes that the primary reason she got the job was that she was "willing to work for an extremely low salary.") Her summary of her rapid career ascension is both shrewd and modest. "There are a lot of ways to tell this story" she tells me, "One in which I've had this overnight success where I've only been a full-time journalist for less than 5 years, and I write a column in the NYT, and then there's a different version, one in which I was blogging in my bedroom for 8 years and not getting paid ever and it took a while to build up reputation and have the right opportunity come my way and a while to know the right opportunity and to be able to take it."
Her advice for freelancers is no less thoughtful. What well set you apart, she insists, is an underlying knowledge beyond the ability to write and report. "It's especially rare for women, Taub says, "Because we tend not to be encouraged to have opinions and do analysis publicly and to put that out there, women tend to have less of a body of work and less practice doing that sort of thing, and so the more you can get the more you can demonstrate that you have the ability to think about something and write about it, I think there is still a real hunger for that and a real market for it."
Ultimately her insights into journalism point to much wider societal problems. "Women need to be much more powerful across the board" she affirms, "We still have this attitude on a lot of places that men are still entitled to the attention and in some cases the sexual services of women (she references the Jeffrey Epstein case). In the end, we need to have women be more powerful, have enough power that it changes the perception of what women are there to do and we need to change the norms of masculinity."
Taub's keen interest in the effects of the MeToo movement on shifting masculine societal norms is palpable. She is quick to highlight the need to shift a focus back on to men, and everyday instances of micro power imbalances.
"These things exist on a spectrum" she reminds me, "You can't just address the most extreme examples of abuse you have to also address the middle: where women aren't listened to in meetings, when they're in positions of seniority they're seen as harsh or shrill or unreasonable."
I ask how her engagement with masculine norms and behaviour informed her recent feature piece for The New York Times, exploring YouTube's growing prevalence in Brazil as a radicalisation tool notably among young men. "The thing I found particularly intriguing is a whole cohort of young far right online men who have managed to take the kind of online persona of the very angry, very animated, and very aggressive person who seeks out conflict and lets people watch. They've used that as political leverage to push for a very far right political movement." They have for the most part been successful according to Taub.
"I think a lot of what they find effective (they said this when I came and spoke to them) are 'Cognitive Triggers' which they basically mean is finding a way to make people feel angry or outraged. A lot of that is by being what I came to think of as an aggressive victim. where there was a protest happening, or students having a sit in at their high school, and Youtuber from this group would pick a fight with people, find people and ask very aggressive questions, until they couldn't answer, and eventually tensions would rise and it would seem like he was at the mercy of the crowd and in a lot of danger when they were essentially just bullying high school kids "
That's kind of a rambling answer, she tells me.
"But the flipside of this was that we also talked to people who had been hurt by these kinds of videos. As we went all over the country this pattern emerged of powerful men who were using this platform as leverage or to gain political power to achieve their own goals, and less powerful people (usually women) who were hurt by them."
I ask her if everything she has seen has shaped her view of the role social media will play in addressing these dynamics.
"We're at an uncertain stage in social media, she says, where its capability to increase divisions and forms of identify far out strips our understanding of how to control it which goes to social media companies. I speak to them as I think they are still a bit shell shocked by this powerful position in society and surprised that anyone expects them to take responsibility for what happens. "
I wind up our interview, and warn our audience that I don't want to give away any 'spoilers' for her upcoming talk on 'Democracy in the Digital Age'
She laughs and turns to the audience: "Spoiler, guys: social media is kind of a big deal."