Beyond Writing Competition Round I: Inspirational Women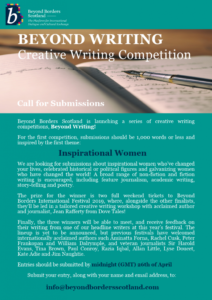 Time to get writing! We are looking for submissions of 1,000 words or less for our creative writing competition, Beyond Writing. Our first theme is Inspirational Women!
We are looking for both fiction and non-fiction writing, journalism, storytelling and any kind of expression on women who have changed the world!
The winner of each competition will get two free weekend tickets to Beyond Borders International Festival 2019, a creative writing workshop and the opportunity to receive feedback on their work from an internationally acclaimed author at the festival.
We look forward to reading your submissions, before 26th April! If you missed the deadline, don't worry, we've got two more competition rounds on Creative Peace and Beyond Borders coming soon!